Movie Monday: Jaime Oliver-Teach every child about food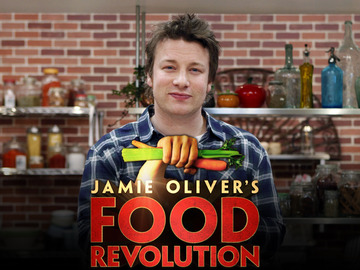 This morning I'm getting back on schedule for my blog posts! Which means that its time for an inspirational foodie video. Today I'm digging Jaime Oliver's TED talk. Now although Jaime is no expert in nutrition, he is a very talented chef, and I love that he is taking a stand and taking action. I love that Jaime is saying the tough stuff, and actually trying to do something. I've watched this talk a few times now, and every time it reminds me why I'm doing what I'm doing. Jaime says it all perfectly, why we are all overweight and obese, what it means to our health and the health of our children, and what we can do about it.
One thing you can actually do to help, is to silently protest by not being a consumer of fast food. I'm an avid believer of taking fast food out of your diet. And I know for many people this will be a huge change to their lifestyle, but if you can make this single change in your diet, you will be healthier. There are so many things you can make at home that are quick and easy. Of course, Jaime Oliver has already done this for us-His 15 minute meals are a fantastic substitute for fast food. In the time it takes to order the food, drive to pick it up and get it home, you can prepare a healthy meal.
So I challenge you, to swap one fast food meal this week, with a healthy 15 minute meal.  I like to make a big batch of roast veggies on a Sunday, then you can make lots of great recipes out of them. You could add them into a roast vegetable pasta dish, with whole wheat pasta, canned tomatoes with lots of herbs and spices, or you could make a roast veggie salad with baby spinach, cherry tomatoes, and pine nuts.
I would love to hear your suggestions, so please comment below with your best 15 minute meal!